Stay up to date!
Be the first to know about discounts and promotions
International bus station
Our experts will be happy to answer any question regarding our services.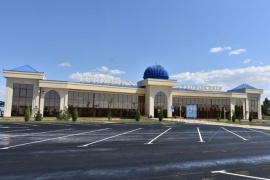 25 January 2020
The new international bus station is built in an oriental style, it is located on an area of ​​2.4 hectares and is designed to send and receive about 600 buses per day. Recall that the construction of the facility began in April 2019.
The bus station will be able to serve up to 10 thousand passengers per day. There are a waiting room, ticket offices, a room for mother and child. In addition, a parking lot, technical inspection and bus supervision premises will be located on the territory of the new bus station.